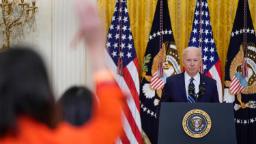 If Democrats have any chance to beat the odds, they'll need a lot to go their way.
On that front, one of the most promising signs for Biden is the state of the economy. Voters see it turning around at a very fast pace.
The latest
CNN/SSRS poll
shows that 55% of voters see the state of the economy as good. Just 44% view it as poor. Among all Americans, the split is a similar 54% to 45%.
That 54% is up significantly from 43% three months ago and 34% in May 2020.
Before this latest Gallup poll, every poll from them since April 2020 found a lot more Americans saying the economy was getting worse than better. This bottomed out last April, when 74% said the economy was getting worse. As recently as January 2021, 66% of Americans said the economy was getting worse.
Now, not every poll shows voters' perceptions of the economy as good as the CNN and Gallup surveys. But all of them show that voters are considerably more optimistic on the economy than they were a year ago.
Biden, it seems, is getting at least some of the credit for what voters see as an increasingly good economy. The CNN poll put his approval rating on the economy at 50% among voters. This was about equal to his overall approval rating in the poll of 52% with voters.
Indeed, all reputable polling has Biden with an economic approval rating above his disapproval rating.
Now, Biden has more people approving than disapproving of his job on two of the nation's top problems (the economy and the coronavirus).
The type of fast turnaround on how Americans view the state of the economy is very much unlike the last time the state of the economy declined in late 2007 and into 2008. After 54% of Americans said the economy was in good condition in September 2007 CNN polling, it took until January 2017 to hit that level again.
That's a turnaround time of almost 10 years for the last recovery. It took only about a year in the minds of Americans to get to the same level of comfort with the economy during this recovery.
During this last recovery, a different Democratic president was facing his first midterm in 2010.