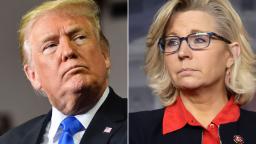 "We can't embrace the notion the election is stolen. It's a poison in the bloodstream of our democracy," Cheney said, speaking behind closed doors at a conference in Sea Island, Georgia. "We can't whitewash what happened on January 6 or perpetuate Trump's big lie. It is a threat to democracy. What he did on January 6 is a line that cannot be crossed."
Cheney made her comments, confirmed to CNN by two people in the room, during an off-the-record interview with former House Speaker Paul Ryan before a crowd of donors and scholars at the annual retreat for the American Enterprise Institute, a conservative think tank.
Cheney also called the Constitution "our shield" and said a "peaceful transfer of power must be defended."
The comments in Georgia
followed a tweet she sent
earlier in the day. "The 2020 presidential election was not stolen," Cheney tweeted. "Anyone who claims it was is spreading THE BIG LIE, turning their back on the rule of law, and poisoning our democratic system."
The tweet was in response to Trump, who on Monday continued to perpetuate the lie that the election was stolen. "The Fraudulent Presidential Election of 2020 will be, from this day forth, known as THE BIG LIE!"
In February, Cheney said publicly Trump "does not have a role as a leader of our party going forward" and said just last week it is "disqualifying" for any public official who opposed certifying the election results to run for the White House in the future.
"She is so low that her only chance would be if vast numbers of people run against her which, hopefully, won't happen," said Trump in a written statement issued Monday afternoon. "They never liked her much, but I say she'll never run in a Wyoming election again!"
McCarthy 'furious' at Cheney
As the top House Republican, McCarthy has the power to call for a quick vote that would effectively seek Cheney's removal from his leadership team and could do so as soon as next week. But it's unclear if he will do that, according to multiple House GOP sources.
Nevertheless, multiple Republican lawmakers and aides tell CNN that Cheney is on very shaky ground internally.
One House GOP lawmaker, who voted to keep Cheney in her post in February, said after speaking with many of his colleagues, it's clear that Cheney has "less (support) than she thinks" within the House GOP conference. Cheney's outspoken criticism of Trump has led some House Republicans to accuse her of dividing the conference and distracting from the party's goals.
When Cheney easily survived the vote in February, McCarthy came to her defense and called on the House GOP conference to keep her in the spot in a speech delivered behind closed doors. This time, however, could be different. A House GOP source who has been in contact with McCarthy said the GOP leader has been "furious" at her for weeks amid her comments about Trump.
Cheney's uphill battle
While Trump has remained popular among Republican voters and within the House GOP conference, Cheney has not tempered her criticism of him. In a statement announcing her impeachment vote in January, she said the then-President had "summoned this mob, assembled the mob, and lit the flame of this attack."
"Everything that followed was his doing," she said.
Since then, Cheney has continued to say that Trump should not have a future in the GOP. At a February 24 press conference with McCarthy, both leaders were asked about the former President's upcoming speaking engagement at the Conservative Political Action Conference. While McCarthy said he should speak there, Cheney disagreed.
"That's up to CPAC," Cheney said. "I don't believe that he should be playing a role in the future of the party or the country."
That was the last time McCarthy and Cheney appeared in public together. The two have continued to be at odds on issues surrounding Trump and January 6. A day after McCarthy told Fox News's Chris Wallace that a congressional investigatory commission into January 6 should be broadened to look at other examples of political violence around the Capitol, Cheney disagreed.
"I think it's very important that the January 6 commission focus on what happened on January 6 and what led to that attack," Cheney told reporters on April 26 at the House Republican retreat in Orlando.
In the same press conference, Cheney declined to say Trump was the leader of the Republican Party, naming instead Sen. Mitch McConnell, the minority leader in the Senate, and McCarthy.
And another of the House impeachment 10, Illinois Rep. Adam Kinzinger, is attempting to organize support for Republican candidates who oppose Trump's influence on the party with a new super PAC.
And Ryan's participation in the interview with Cheney on Monday suggests the former Wisconsin Republican is also seeking a role in trying to shape the party's future. Ryan's longtime political aide, Kevin Seifert, has been working for Cheney's political team since earlier this year.
CNN's Manu Raju and Alex Rogers contributed to this report.